The December sprint release for Drupal is scheduled for Saturday, December 7th. Please refrain from editing sites on Saturday. 
Changes & Bug Fixes
The background color has been changed back to white (#FFFFFF) per University Communication brand guidelines. 
The Localist (Events) widget card styles were overridden in the November release. This has been corrected in the December release. 
Overflow of the background image on videos in various view modes should no longer display. 
New Features
Footer Emails and Telephone Numbers
The UCR Custom Site Settings has been updated to allow a more flexible way of adding email addresses and telephone numbers. Site builders can now customize the label for the email addresses and telephone numbers as needed. There are three email address fields, two for telephone, and one for fax (which could be used for another telephone number).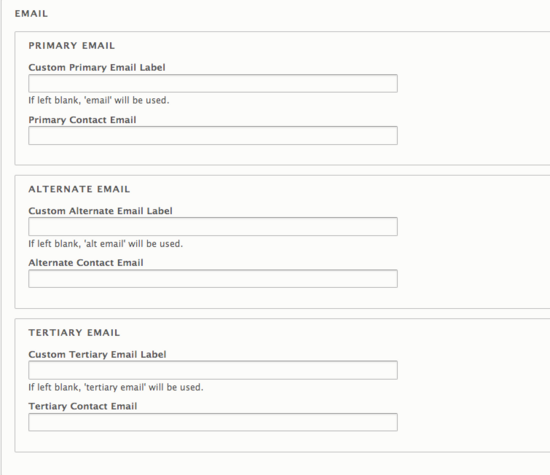 CNAS sub-theme's fixes and updates
Carousel Slider Block: Fix for Gold banner View Modes (Tall and Short) sizing, margins and mobile optimization.
Testimonial Slider Block: Styling fixes for padding, light and dark text colors, and pager placement.
Article Preview: Fix styling to better match CNAS theme. Fix spacing so text does not run into the 'More' button.
Misc: Added CSS code to support responsive Youtube embed videos.
Call to Action Block: Set default margins back to zero. Change view mode 'CNAS CTA No Margins' to 'CNAS CTA With Margins'.
Teaser Callout Block: Styling fix to allow button widths to auto adjust.
Misc: Multi-column layouts had content extend beyond the footer. Fix made to allow the height to auto adjust.
Main Menu drop-downs: Removed forced capitalization style.
News Article: Styled detail page header area.
Expanding Card: Fix default text and background colors.
Accordion Block: Fix content extending beyond footer when an accordion is opened.
Local Galleria Preview Block: Change default CNAS background to white instead of black.
Color Picker Module: Removed the color #296CC0 since it already exists in the default UCR color picker module.