In addition to the main navigation, mega navigation, audience links, and related links, editors can create custom menus. These can be used in the primary content area using the Layout tab. Or, they can be placed using block layout within a region (recommended use in left, right, or footer regions only). The style and design is set based on the theme selected.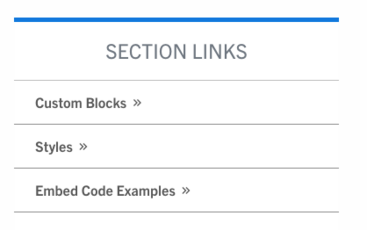 How to Create a Menu
This is an editor and site builder role. 
In the admin toolbar, navigate to Structure -> Menus and click on "Add Menu"
Give the menu a name. This name should relate to the content. This is important because it will show as your menu's title to visitors. Optionally add an administrative summary (this does not display anywhere). 
Click Save.
Add your links. This is done the same way as other menus within your site. 
Click Save. 
Now your menu will be available under Structure -> Menus. 
Add Additional Menu to a Basic Page
Menus can be added to basic pages through the Layout tab. Menus can also be added to pages using Block Layout (builder role only). 
Layout
Navigate to your page (be sure you are logged in).
Go to "Layout". 
In the Layout tab, determine the section and column to place the menu and click "Add block". 
Scroll to the menu listings or use the filter box to type in the menu's title and select the one you want on the page.
Make sure the title is what you want to display to your visitors.

It is important that "Display Title" is checked

. The title is necessary in mobile view since additional menus hide in mobile view and visitors need to click the title to display the links. You can keep menu levels, advanced options, and html and style options as default. 
Click "Add block".
The additional menu should now be placed on the page.