There are three navigation menus that a site built with our UCR default profile will contain. 
Main Navigation - appears horizontally below the site title on all pages of your site
Audience Menu - appears on the top right, in the same region as the organizational name and Google custom search
Related Links - appears in the footer, in one of the columns, depending on how the site is configured
Where do I find the Menus?
To edit one of these menus, a user must have "Editor" or "Site Builder" rights to the site. Menus can be found under the Structure tab.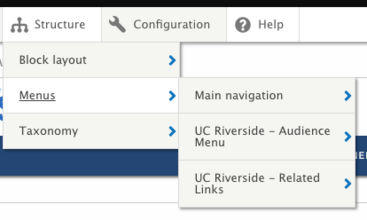 Things to know 
Content you create isn't automatically added to a menu. No hierarchy exists until you create it.
Adding content links to a menu is a deliberate, manual step on your part.
There are two different ways to add main navigation menu items

Structure -> Menus -> Main Navigation
During page creation, using the "Menu Settings" to the right of your body content. 

Sub-navigation can be achieved by indenting or selecting its parent. Sub-navigation should not be used on the UC Riverside - Related Links, as it will not be listed as a drop-down.
When using the Audience Menu, keep in mind that best practice is to have only one first level navigation item.