Riverside, Ca –
The July sprint release for Drupal introduces a new way to utilize the Article Content Type. This overhaul is the highlight of the release. Users have requested a way to use articles in multiple, more flexible ways. The look has also been updated. Another new addition is having a workflow feature for all content types except for basic page and workflow enabled for custom blocks. 
Enhancements
The spacing between a title (H1) and the body content has decreased, removing excess padding of 30px. 
A no-stripe table has been added to the Styles drop down menu. 
Custom blocks workflow - draft, review, and publish ability as well as optional scheduling (please note, if your site requires use of scheduling, an auto CRON job needs to be set up). Now that the custom block workflow is on, any existing block will be published. If you are updating an existing block or creating a new block, it will be in draft mode by default. Switch to "publish" to publish the update to your site viewers. 
Articles, Events, Local Galleria, People Profiles, and FAQ content type will have workflow enabled, allowing for draft and publish. Scheduling can be utilized if an auto CRON job runs on the website. 
Articles Content Type
Articles (to be updated on July 5th) are no longer limited to "news", "press release", and "blog". Using the taxonomy vocabulary, "Article Types", additional article types can be created for a plethora of uses, such as individual blogs. In August, Article Types will be automatically enabled. Before that time, please reach out to Campus Web Solutions to enable permissions.
The articles listing page view will still be located at '/articles' on a website. If you used a blog, news, or press release previously, they are still located at the same path. Any new article type you create will have its own listing page with a specified path of your choosing.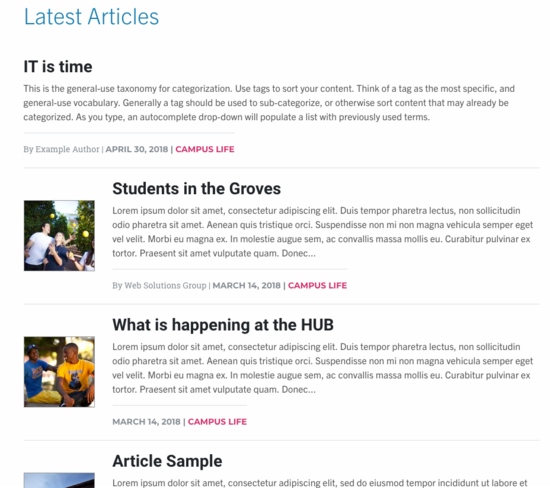 The articles listing page has a new look. The listing page is no longer separated by article type. It will show latest first by default. Image thumbnails are now 118x118. Before, they were 266x266. The date, author, and tags display the same way news.ucr.edu does, which makes them more prominent. The individual articles themselves also have an updated look that includes share links.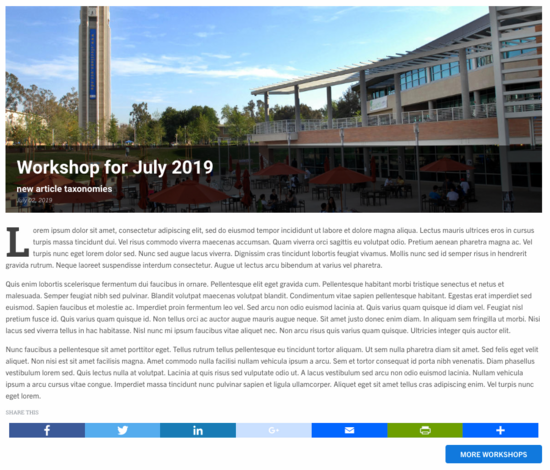 Articles can now be placed in draft, in review, and published mode. Publishing can be scheduled for a specific date and time. In order for scheduling to work effectively, a CRON Job needs to run on the website.
Articles now has its own tab under Content. This will help editors locate and manage their content.
Older Auto Blocks that displayed the article teasers will still be available. However, these will need to be eventually replaced with the new article previews that is now a custom block. No new items will appear on the old auto block previews. 
A new custom block called "Article Preview" has been created. This will need to be used in order to create those little previews or teasers on additional pages. There are now several options to choose from including a slideshow option!