Layout Builder is a visual design tool in Drupal that makes creating page layouts quick and easy! Layout Builder provides flexible page layouts for the Basic Page content type. Content blocks are easily searchable to place in the multitude of regions created within the primary content area. Content blocks can be moved or dragged around the page. With Layout Builder, the editor is in control of laying out their content in a way that fits their needs, on a page by page basis. 
The following image displays where blocks of content can be added. New sections can be added in 1, 2, 3, or 4 column regions. This allows more possibilities with layouts.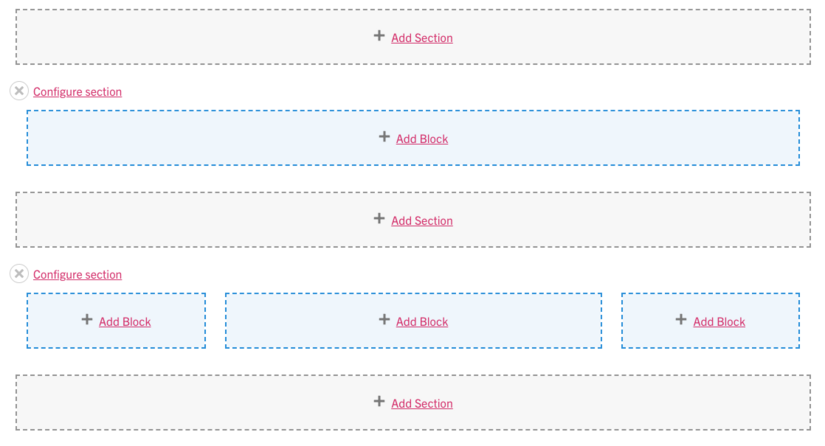 Drag and drop content into the different regions. 
Any newly created site (after August 3rd) will use Layout Builder. Any site created before August 3rd will have Layout Builder running in the background. 
Existing Sites
Layout Builder effectively accomplishes what Panelizer currently does, but better! Sites that were created prior to August 3rd 2019 will continue to run Panelizer. Layout Builder will run simultaneously in the background. That means updates can continue to be made using Panelizer. Any updates using the "Layout" tab will be saved but they will not be published, i.e. not live to viewers. Site owners can decide when to use Layout Builder. Unfortunately, there is no streamlined migration tool from Panelizer to Layout Builder at this time. The prep work involved to move will depend on how many basic pages and how many blocks have been placed on those pages. Once all the repositioning of blocks have been done in Layout mode, then the site is ready to solely use Layout Builder and Panelizer can be turned off. If Panelizer is turned off before all basic pages have their Layouts intact, the site will only show what has been done in Layout mode. 
More About Switching to Layout Builder
Why is Layout Builder better?
Here is a chart showing the differences between Panelizer and Layout Builder. 
| Panelizer | Layout Builder |
| --- | --- |
| specific, limited number of page layouts | editor defines sections with almost limitless possibilities |
| only centered option for multiple columns | full width and centered (fit to grid) options for any column selection |
| content not easily searchable | content filterable |
| confusing options for page management | limited to only content blocks necessary |
| drag and drop | drag and drop |
| dashboard on the bottom in view mode | separate layout tab to distinguish between view mode |
| contributed module | core Drupal module |